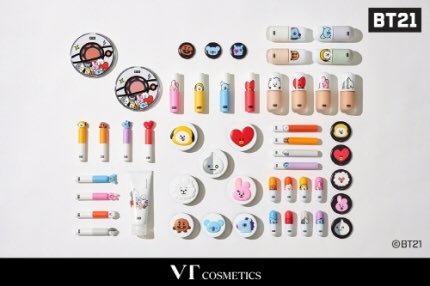 VT Cosmetics not only collaborated with BTS, but with their children too — BT21! BT21 has released a variety of collabs in the past year (there's literally too many to count) but this is the one we were particularly most excited about — because it combines 2 things we love, BTS & makeup!
We flew to Singapore about 2 weeks ago to watch BTS' Love Yourself concert live, and managed to sneak in a few hours to check out the VT Cosmetics outlet there. Everything in the lineup is just too cute and very collectible, but we obviously couldn't afford to get them all.
Here are the items we managed to buy:
Eyeshadow Palette No. 02 (Mood Indigo)
Cooky – Real Wear Water Cushion No. 21 Ivory
Tata – Real Wear Satin Cushion No. 23 Beige
Mang – Tinted Milk CC Cream
Tata – Fit On Stick (Under Cover)
Cooky Cream Lip Lacquer (Mellow Coral)
Tata Glow Lip Lacquer (Potent Red)
Chimmy Glow Lip Lacquer (Pure Coral)
Shooky Lippie Stick (Brown Dawn)
We tried to create a full-face makeup look using all BT21 products only, so we'll run you through the whole journey, and also add in our thoughts about each item! 😊
STEP 1: Mang – Tinted Milk CC Cream
Audrey: The first time I saw this product, I had my apprehensions because the CC cream is pure white. Although I'm not exactly tanned, I didn't think there was a way this could match someone who wasn't bond paper white. My impression didn't get better when I first applied it either because I found that the formula didn't make for easy application in the sense that it got a little patchy when being spread from the inner cheek to the outer cheek. It also made my skin tone a bunch of shades lighter which was quite alarming.
A little while after application, I noticed that despite my worries, the CC cream was blending into my skin. I gave this CC cream a couple of tries and finally found that warming it up by rubbing it on your fingers before applying it also reduces the patchiness of the product. I guess it has to be stored in a warmer place so that it'll spread easily. It also evened out my skin tone even though it doesn't really provide coverage. It doesn't feel heavy either, so it'll be good for no-makeup makeup looks with just a touch of concealer.
Step 2: Tata – Real Wear Satin Cushion in No. 23 Beige (Audrey); Cooky – Real Wear Water Cushion in No. 21 Ivory (Kimi)
Kimi: It's really hard to find a cushion that works well for me and this one just barely makes the cut. My holy grail cushion is just too amazing that my standards are sky high, but it doesn't mean the BT21 cushions are horrible — they're just typical I guess.
The coverage of the Cooky one is light to medium, which is what I prefer, but it clings to my dry patches, so the application isn't as smooth as I'd want it to be. I've tried the Tata one as well and it's pretty standard, but it leaves a really bad white cast, which you need to wait to set. Ironically, the Tata one we bought (No. 23 Beige) is my shade but the Cooky one (No. 21 Ivory) fits my skin tone better. I guess it depends on the finish, being that Cooky has a more natural and lightweight coverage compared to the fuller effect the Tata one gives.
The formula isn't stellar and would probably not work on people with drier and less moisturized skin, but the packaging is too cute for words, that it's a crime to not have this in your makeup bag.
I do wish they could come up with a more extensive shade range because even the 2 colors they currently have look pretty much alike.
Step 3: Eyeshadow Palette No. 02 Mood Indigo
Kimi: There are 2 options for the eyeshadow palette with one having more brown, nude and generic colors, and another with more unique colors. Obviously, we chose the latter since we felt like this one has shades that you wouldn't normally find in any other palette.
There are 7 shades all in all — 1 brown base shade in the middle, and 6 shimmers of different tones. I had a hard time doing the swatches on my arm since the pigmentation isn't too good, and I was very worried that I'd have a hard time applying them on the lids. My fears turned out to be true because I had to wet my brush with setting spray first just to get the color to come out. The brown base color was fine, but it was the shimmers that I struggled with. Every color appeared the same on my eyes, because only the glitters would show. ☹️ The shimmers also had intense fallout, which was apparent in the palette and on my face.
I think the brown is workable but the shimmers are very tricky, and I think the only way to get it to work is to put it on top of a matte eyeshadow, and I guess for this you'd need another palette since this one only has the brown base.
Tbh, I really didn't like how my eye makeup turned out and probably won't be reaching for this palette again anytime soon. Plus, I'm not sure if my eyes are too sensitive, but I felt a slight itch after a few minutes, so I had to remove it right away. 😦
Step 4: Tata – Fit On Stick
Kimi: We used the Tata Fit on Stick corrector as a blush, and it gives a really natural flush! The first layer kind of fades into the skin after a while, but it's very buildable so you can keep on adding more layers until you're satisfied.
I'm actually quite happy with this product and would say it's my favorite so far! 🙂
Step 5: Lippie Products!
Audrey:
The Glow Lacquers
The Chimmy and Tata Glow Lacquers were both pretty good since they didn't dry out the lips or leave color only on the center of the lips like many non-matte lip tints do. The Chimmy shade was very pretty and feminine, and it didn't leave glaring stains. The Tata shade on the other hand was quite loud, and if you apply a full lip, it might end up a little intense. Even so, the shade is nice and would suit multiple skin tones. It left my lips with really pigmented stains, unlike the Chimmy one, almost as if I didn't take the lip tint off at all. The tints aren't the most long-lasting, but the shades are nice, the formula is quite easy to work with, and the packaging is super super cute.
The Cream Lacquer
The Cooky cream lacquer has a really pretty, wearable shade that would probably become a go-to for a lot of people. It wasn't particularly great in any aspect–it doesn't last too long, but it doesn't fade that quickly. It has a decent consistency and a matte-r finish than the glow lacquers. All in all, it's a decent lip lacquer with a nice shade that you can use for almost any occasion.
The Lippie Stick
This Shooky lippie stick is in that basic staple shade that everyone needs to have and has a classic cream formula. It's a very familiar consistency–creamy, smoothy, and a little thick. The shade name is "Brown Dawn", but I feel like it's a little brighter than the name implies. It would be perfect for natural makeup days where everything's supposed to look neat and feminine. This also has a shade and a formula that make it very easy to layer, mix, and blend with other shades. It's a solid base color that you can never go wrong with!
And that's it! 🙂 We had so much fun writing this post and trying out all the products! Although overall our experience with the whole collection was just average, the BT21-ness of it all makes up for it a lot. We honestly wouldn't have bought any of these if not for the cute packaging. This is definitely a must-buy for any BTS/BT21 stan, but a hard pass if you aren't.